The Hipodrome of Music is a blog born in 2009 in the Hipodrom neighborhood of Sibiu, its aim being to promote a music that is less known to the wide public. Hipodrome is a mixture of electronic music, new wave, psy-rock, jazz or disco from different places of the world (The Americas, Africa, Europe or The Middle East).
Musical Tasting is a series of events, a collaboration between My Transylvania and The Hipodrome of Music, aiming to promote countries, regions and their musical genres, combining auditions with traditional recipes from the area, cooked with as many local and seasonal ingredients. We will have musical and culinary trips in Turkey, Lebanon, Germany, Italy, South Africa, Belgium, Cuba, Israel Greece or Romania.
#5 Musical Tasting – Japan
About us https://musicaltasting.wordpress.com/

For Musical Tasting #5 we will have again a special guest. Alexandru Draganescu aka JB comes from Brașov, he is passionate about music and the owner of an impressive record collection. Among other things, Alex is also passionate about Japanese music, and for this event he will offer us a selection of jazz, soul, disco, funk, pop-rock and Japanese new wave. My Transylvania cooks dinner, Hipodrome plays the music. Expect an evening with rhythms and flavors from the country of the rising sun.


Hipodrome of Music este un blog nascut in 2009 in cartierul sibian Hipodrom, cu scopul de a promova muzica mai putin cunoscuta publicului larg. Pe Hipodrome gasesti un amestec de muzica electronica, new wave, psy-rock, jazz, disco, din zone diferite ale lumii (cele 2 Americi, Africa, Europa sau Orientul Mijlociu).
Degustare Muzicala este o serie de evenimente, o colaborare intre My Transylvania si The Hipodrome of Music, care isi propune sa promoveze tari, regiuni si anumite curente muzicale care le apartin, combinand auditia muzicala cu retete specifice zonei, gatite cu cat mai multe ingrediente locale si de sezon. Vorbim de calatorii muzicale si degustari din Turcia, Liban, Germania, Italia, Africa de Sud, Belgia, Cuba, Israel, Grecia sau Romania.
#5 Degustare Muzicala - Japonia
Despre noi https://musicaltasting.wordpress.com/

Pentru Degustare Muzicală #5 vom avem din nou cu un invitat special. Alexandru Draganescu aka JB vine din Brașov, este pasionat de muzică și posesorul unei colecții de discuri impresionantă. Printre altele, Alex este pasionat și de muzica japoneza, iar pentru această seară el ne va face o selecție de jazz, soul, disco, funk, pop-rock și new-wave japonez. My Transylvania pregăteşte cina, iar Hipodrome muzica. Va fi o seară cu ritmuri și arome din țara soarelui răsare.
Meniu special
Bufet cu specialități japoneze bazat partial pe ingrediente locale și de sezon, dar cu condimente aduse din Japonia: sushi mix (varietate de role), salata de cartofi, orez prajit cu usturoi, orez prajit cu crab, kushikatzu (frigarui de porc cu vinete), Katzu de pui cu sos de fructe, buta kakuni (porc cu sos dulce), rice noodels cu legume. Standing dinner with no tables.
1717 Bere artizanala
Partener al evenimentului
---
Chefs

Host
Restaurant OSushi
Japanese cuisine - Sushi

Invatarea continua si noile experiente sunt cateva dintre ingredientele unei vieti frumoase, sanatoase si fericite. Bine ati venit la OSushi, sunt OChef si imi propun sa va dezvalui secretele bucatariei japoneze. Va invit sa degustati fascinantele ei preparate precum sushi alaturi de mancaruri calde, tempura si deseruri si va promit o calatorie culinara proverbiala prin specificul ei. La Osushi veti experimenta gustul autentic al mancarii sanatoase japoneze cu preparate ce contin ingrediente proaspete, pregatite pe loc imediat ce ati comandat.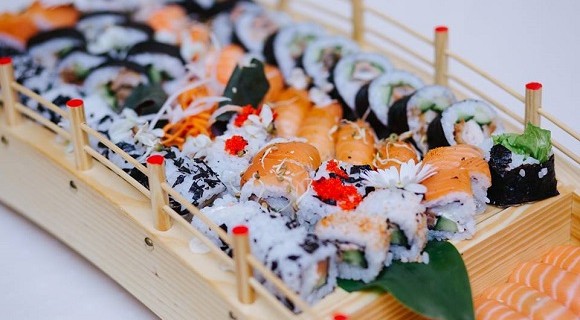 ---
---