Bacon and onion / 11:30 hrs, Cristian, SB

Our event is organized in partnership with Mozaic Jazz Festival 2017. Is actually the most common culinary combination in Transylvania. Experience plenty varieties of both local products and taste old recipes made with the two beloved ingredients.
Our brunch is served as buffet and includes: 10 cold specialities, 3 warm main courses, deserts, non alcoholic drinks.

Slănină și ceapă / 11:30 Cristian, SB

Eveniment organizat în parteneriat cu Mozaic Jazz Festival 2017.
Este în fapt cea mai cunoscută și consumată combinație culinară din Transilvania. Vă propunem o degustare din nenumăratele varietăți din aceste produse dar și preparate după rețete vechi la cele două produse îndrăgite sunt ingrediente de bază.
Brunch-ul nostru este servit sub forma de bufet care contine minim 10 specialitati locale reci, 3 feluri principale calde, deserturi si bauturi non alcoolice.
Host
Biserica Fortificata Cristian
Cristian / Großau
The second largest community from the Sibiu Chair (former administrative unit) brought important changes to the initial Romanesque church: in the 14th century a polygonal chancel flanked by two side chapels was added and the master-builder Andreas Lapicida coordinated the rising of the side aisles and the substitution of the central nave's arcades by piers. A late Gothic vault was unfurled over the central nave. The Romanesque western tower was heightened through the annexation of a defence floor, which was later on replaced by the present tower roof. The double defense wall encloses a small outer ward, which was completed on the northern side with a forecourt around 1550. The impressive inner furnishing dates back to the 18th century and is dominated by the richly decorated Baroque altar from 1729. Cristian is one of the first three villages to be repopulated starting with 1756, after the plague had decimated the residents, through the colonization of protestants – Landlers – forcefully sent in from the Catholic Vienna.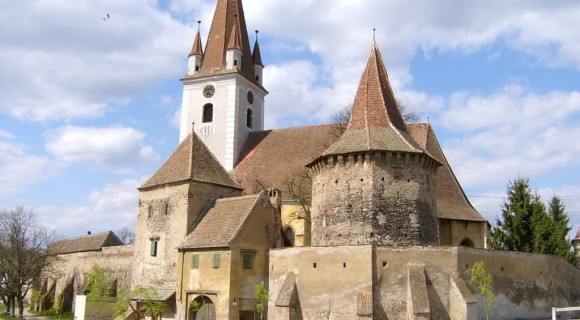 ---
Location
Cristian, Sibiu, Romania
Strada IV, Cristian, Sibiu, Romania
Biserica fortificata - Fortified church Cristian
Kirchenburg Grossau


Get directions
---